February 19, 2015
Live Stream AAUW's Solving the Equation Launch
Date:
March 26, 2015
Time:
11 a.m.–12:30 p.m. Pacific,
2–3:30 p.m. Eastern
Location:
Online (You just need to register.)
Cost:
Free
AAUW's latest research report on women in STEM, Solving the Equation: The Variables for Women's Success in Engineering and Computing, will be released on March 26, 2015, with an event and panel discussion at Samsung's new research headquarters in Silicon Valley.
We know how much you care about AAUW and our STEM programs, so make sure you sign up to watch the event as it happens. Stanford researcher Londa Schiebinger will lead a panel of experts from industry and academia in a discussion of the report's findings and what they mean for anyone who cares about getting more women and girls into engineering and computing fields.
November 22, 2013
Thanks to the positive reviews of members like you, AAUW is once again top-rated on GreatNonprofits! Visit AAUW's profile<http://salsa4.salsalabs.com/dia/track.jsp?v=2&c=lSND8d0Vn8skhYwJlYDiJh5WQrGaWaSw> to read what others have said about our impact, and share your story by writing a review<http://salsa4.salsalabs.com/dia/track.jsp?v=2&c=R7iQBF80kW5cyrkRBqKUOB5WQrGaWaSw> today.
November 21, 2013
Waverly Branch Hosts Thanksgiving Meal at Bremwood Campus
Members from the Waverly Branch served a Thanksgiving Meal at the Bremwood Campus in Waverly.  They also provide games and prizes after the meal.  Below is a picture of members serving some of the campus students.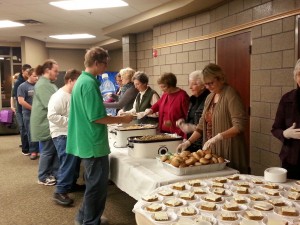 November 17, 2013

Karen Lehmann, Sheree Covert, and Kim Folkers attended  "Cluster, Conversation and Coffee" put on by the Iowa AAUW for the branches in north/central Iowa. The meeting took place at the public library in Cedar Falls.  The focus was on a new Mission-Based Programming model that is being rolled out.  We also brainstormed ideas and activities related to advocacy and coalition building.  Branches represented were Waverly, Waterloo, and Cedar Falls.  AAUW Iowa officers Rosanne Krubsack, Iowa Public Policy Director and Maureen White, President-Elect,  facilitated.