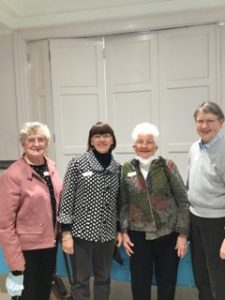 Sharon Abram, Kim Folkers, Elly Folkers, and Ann Henninger at CF/Waterloo AAUW Brunch 2/26/22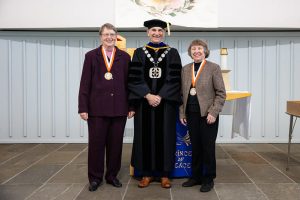 Waverly Branch Members, Ann Henninger & Shirley Walker, Receive Wartburg Medals, Dec. 2021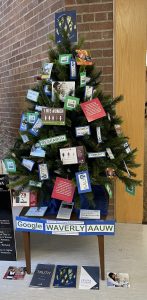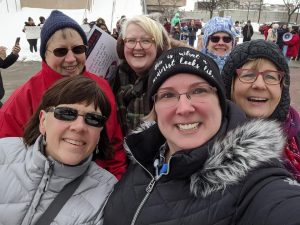 Waterloo Women's March, Jan. 24, 2020 – Celebrating 100 Years of Women's Suffrage
AAUW Tree – 2021 Festival of Trees – Wartburg College
Important Resources for Girls and Young Women
Waverly AAUW – Celebrating our 94th Anniversary in 2022!
The American Association of University Women (AAUW) empowers women and girls through advocacy, education, philanthropy, and research. Our nonpartisan, nonprofit organization has more than 170,000 members and supporters across the United States, as well as 1,000 local branches and 800 college and university partners. Since AAUW's founding in 1881, our members have examined and taken positions on the fundamental issues of the day — educational, social, economic, and political.
AAUW's Mission:
To advance gender equity for women and girls through research, education and advocacy.
AAUW's Vision: Equity for all.
AAUW's Values: Nonpartisan. Fact-based. Integrity. Inclusion and intersectionality.
AAUW's Value Promise:
By joining AAUW, you belong to a community that breaks through educational and economic barriers so that all women and girls have a fair chance.
How You Can Help Afghanistan (Aug. 2021)
Impact of Pandemic on Women in Workforce (3/2021)
Pandemic Will Set Women Back 10 Years in Workplace
Suffrage Isn't Boring History – It's a Story of Political Geniuses – NY Times 8/11/20
How To Be An Anti-racist Online Seminar – 6:00 p.m., July 20, 2020 – Ibram Kendi – click here for free registration
What the Pandemic Reveals About the Male Ego – Nicholas Kristof, NY Times, June 13, 2020
CF History Museum – 2020 Women's Suffrage Exhibit
New York Times – Women and Equality Report 2019
Early Feminists – Excellent Look at History of Fight for Women's Rights
Arizona Sends Two Female Senators to Washington – Why This is Important Progress – great CNN article
Gender/Pay Discrimination in Symphonies – an excellent Washington Post article on a recent lawsuit against the Boston Symphony Orchestra – 2018.
Women in the Workplace – 2018 Report (11/18 – McKinsey Quarterly)
Many Ways to be a Girl, Only One Way to be a Boy – The New Gender Rules
Women Lead Parade of Victories to Help Democrats Win House 11/6/18
Missing:  Female CEO's (NY Times 9/28/18)
Leadership Tools and Resources for Women Managers, Executives and Entrepreneurs 
Picture a Leader.  Is She a Woman?
More Women on Boards Leads to Better Financial Results
The Great Al Franken Moment – great article on women's progress
Micro-Insults That Harm Womens' Careers
Great Places for Women to Work
Why There Aren't More Women CEOs
Fortune 500 Women CEO's (June 2017)
Young Women Aren't Closing the Great American Gender Pay Gap – Bloomberg (April 2017)
Do Millennial Men Want Stay-at-Home Wives?
Siemens CEO Speaks Out on Importance of Gender Equity in Organizations' Success
Women CEO's Have Steady Hand At the Wheel
Putting More Women on the Path to Political Power (and what the U.S. can learn from Europe)
New book on women CEOs and their experiences
What's Stalling Progress for Women at Work? Great article from McKinsey Quarterly – Dec. 2016
The Glass Ceiling Holds – A must-read for all of us who today have the right to vote and many other rights as women – all because of the years of hard work put in by those that came before us. This New York Times article by Gail Collins reflects on the Suffrage movement and then follows the slow, but sure steps forward culminating in the 2016 election.
Cracked But Not Shattered – 20 Women Reflect on Hillary Clinton's Attempt to Shatter the Glass Ceiling of the Presidency – CNN Opinion asked women who lead in their fields — actors, athletes, scientists, businesswomen, activists, philanthropists and heads of state — to reflect on the meaning of Clinton's historic candidacy.  Regardless of your politics, these are provocative, yet in many ways inspiring thoughts from 20 well-known women on the challenges women face in achieving equality.
Ann Gale, State President – Oct. 20, 2016 PPT file (click here to download slides)
Gender Bias in Sports Reporting 
Henninger Receives State AAUW Award
Latest AAUW Report – Barriers and Biases
President Obama Speaks Out on the Importance of Equality for Women
Voter Issues Resources:
AAUW Voter Guides – 2016 (newly updated) – be sure to check out the Presidential race and Iowa Senate race guides in particular
Questions for Presidential Candidates at Iowa Events 2016
Grant Military Burial Rites to WWII WASPs 
Videos:
6 Reasons to Become an AAUW Student Affiliate